Alectra and Toronto Hydro show off their first all-electric bucket trucks
September 13, 2023 | By Anthony Capkun
September 13, 2023 – Alectra Utilities—a local distribution company serving Ontario's Greater Golden Horseshoe area—has added an International eMV all-electric double bucket truck to its fleet, which will be used by powerline technicians in day-to-day overhead line maintenance operations.
"The addition of our first fully electric bucket truck marks a significant step toward electrification," said Chris Hudson, Alectra. "Integrating this cutting-edge vehicle into our fleet is part of our commitment to reducing our carbon footprint and fostering a cleaner energy future."
Part of a pilot program, Alectra's Operations team will integrate the electric truck into its fleet over the next nine months, rotating between the Markham, Hamilton and Brampton service centres. The pilot aims to evaluate the practicality and potential of this vehicle for future deployment.
Besides the bucket truck, Alectra is also integrating three Ford E-Transits and four plug-in hybrid Ford Escapes into its field operations.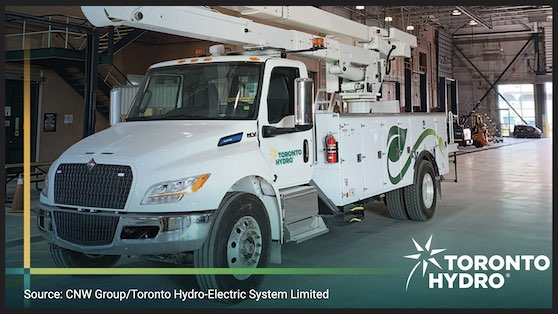 Meantime, Toronto Hydro has also added a fully electric bucket truck to its fleet—a first for that LDC, too. The truck joins the utility's 13 electric vehicles and 53 hybrid vehicles.
"This is a major milestone that demonstrates our ongoing commitment to reducing greenhouse gas emissions from our operations, including through the electrification of our fleet," said Daniel McNeil, Toronto Hydro.
Toronto Hydro will also first pilot the vehicle in its training yard "to ensure seamless integration and operational readiness, and gather valuable insights to further net-zero operations". (The training yard serves as a testing ground for operational equipment, says the utility, and a hub for employees to learn and hone their skills in a controlled environment.)
---
Print this page