August 21, 2020 By Anthony Capkun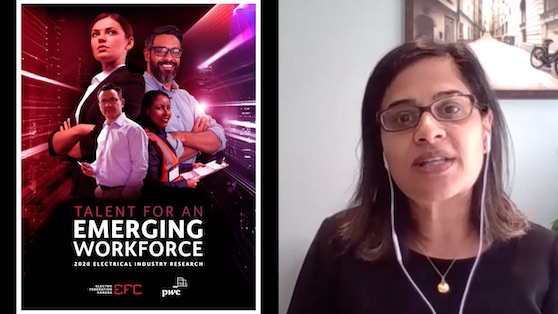 August 21, 2020 – "Talent availability" is the No. 1 priority among Electro-Federation Canada's business leader community, explains EFC's Swati Vora-Patel.
Questions of recruitment and retention abound within the Canadian electrical industry, which is why EFC partnered with PwC to explore talent requirements for an emerging workforce, and bring answers and solutions to EFC members.
Mark your calendar, September 10, at 2 pm (EDT), and attend the Talent for an Emerging Workforce Research Presentation with PwC, where Swati and co-presenters Tresa and Michelle (PwC) will unpack their research findings, and provide tangible, actionable information that EFC members can use right away.
Have a listen to my interview with Swati … she makes a very persuasive case for the importance of attending this webinar!
And stick around until the end, when Daniela De Marco joins the conversation to remind us about a few other events within EFC's Webinar Series—free to EFC members for the remainder of 2020.
---
Print this page