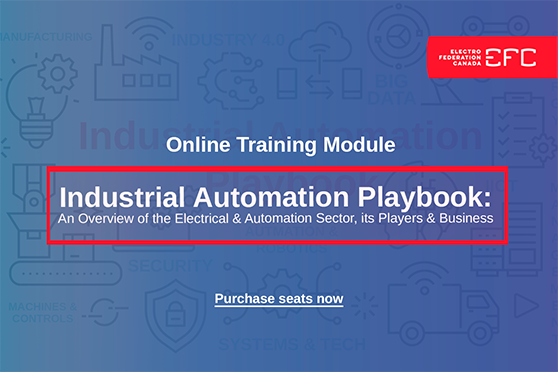 The Industrial Automation Playbook
This online training module centres on the industrial automation sector, including an in-depth look at manufacturing, product categories, market segments, and players, the plant design and business process, and the importance of the Distribution channel.

Upskill yourself or your staff with this interactive online training module, support their professional development journey, and help advance their industry knowledge. Developed for employees across North America in the electrical and automation sector who require an understanding of industrial automation, the manufacturing environments, product categories, players, and the in-plant design and build process. Employees in any field, such as system integrators/installers, machine line builders, technical sales, marketing, quotations, purchasing, project management, and warehousing, to name a few, will benefit from this overview of the sector.
---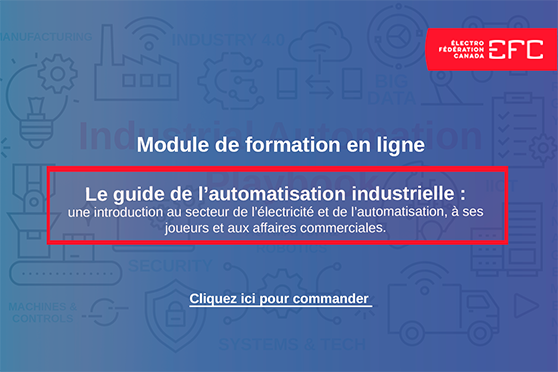 Le du guide de l'automatisation industrielle maintenant disponible!
Ce module de formation en ligne est centré sur le secteur de l'automatisation industrielle, notamment la fabrication, les catégories de produits, les segments de marché et des joueurs, la conception de l'usine et du processus commercial, ainsi que l'importance du réseau de distribution.

Améliorez les compétences de votre personnel grâce à ce module de formation interactive en ligne. Encouragez ainsi leur perfectionnement professionnel et aidez-les à améliorer leurs connaissances de l'industrie. Il a été développé pour les employés du secteur de l'électricité et de l'automatisation en Amérique du Nord qui ont besoin de comprendre l'automatisation industrielle, les environnements de fabrication, les catégories de produits, les joueurs et le processus de conception et de construction en usine. Les employés de tous les domaines tels que l'intégration et l'installation des systèmes, la construction de lignes d'usinage, le technico-commercial, le marketing, les devis, les achats, la gestion de projet et l'entreposage, pour n'en citer que quelques-uns, tireront profit de cette vue d'ensemble du secteur.