Event
EDIST 2023 – Electricity Distributors Association
Print this page
---
This year's EDIST (Electricity, Distribution, Information Systems, Technology) will be held May 30-June 1, 2023, at the Hilton Toronto/Markham Suites Conference Centre.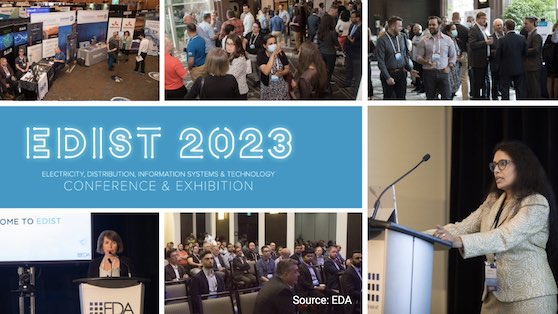 Hosted by the Electricity Distributors Association (EDA), the event is an educational conference and exhibition addressing engineering, operational, IT, and management issues faced by Ontario's local distribution companies.
The theme this year is "Transformation: elevating the electricity sector to new heights".
"Electricity utilities are enabling the transformation of the entire energy ecosystem through emerging technologies, innovations in smart grids, and evolving [distributed energy resources (DERs)]. Heightened demand for electrification of transportation and climate change factors have triggered the need for change. Electricity utilities are key to an energy-driven future that will support sustainable environments, customer-centric solutions, and a low carbon footprint."
Questions? Email Marica Macura, EDA's director, Member Relations, mmacura@eda-on.ca.
Visit event's website
https://www.eda-on.ca/EVENTS/EDIST
---
Print this page