News Personalities
In Memoriam – Catherine Kargas, Electric Mobility Canada
October 19, 2021 By Anthony Capkun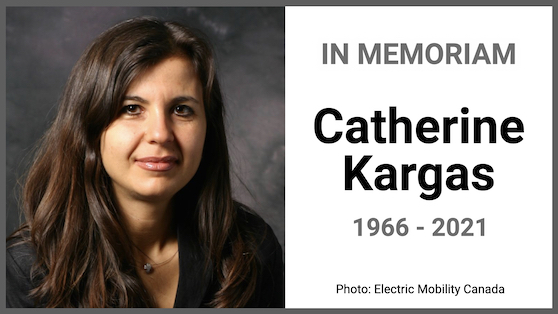 October 19, 2021 – Electric Mobility Canada recently reported the passing of Catherine Kargas—EMC's former CEO and chair—on October 9, 2021. She was 55.
"We all will remember her as a brilliant and dedicated person who always worked for the greater good of the planet in general, and electric mobility in particular," wrote Daniel Breton, current EMC president & CEO.
Her obituary explains Kargas' early work in energy efficiency brought her to embrace advanced and clean mobility as a means to reduce GHGs. She served with several organizations in Canada and in Europe; she served EMC's board for over a decade.
Deservedly, she was bestowed the Al Cormier Life Achievement Award for her commitment.
Kargas, continues her obituary, was recognized twice as one of the 10 most influential minds in mobility worldwide for her relentless commitment [to]—and "her visionary influence on"—mobility in general, but to Mobility-as-a-Service (MaaS) in particular.
"Catherine was surrounded by much love and support throughout her life, her brave 5-year battle against cancer, and her last days. She will be greatly missed by her family and friends, but will forever be remembered as the incredibly strong and loving woman that she was," reads the obituary.
---
Print this page