Features News News
IPEX undertakes "major expansion in pipe extrusion capacity" at Asheville, Lawton, Fort Pierce
July 26, 2022 By Anthony Capkun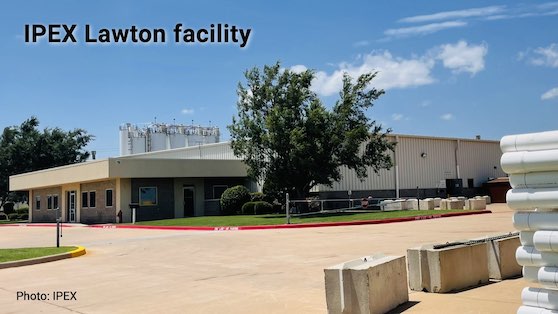 July 26, 2022 – As part of its North American growth strategy and customer service focus, IPEX says it is investing in a major expansion that impacts three of its pipe extrusion facilities.
"This will allow IPEX to increase production capacity for our pipe business to ensure high fill rates and excellent service both in the U.S. and Canada, while we continue our significant growth strategy," said Alex Mestres, IPEX's CEO. "These investments will also add enough capacity to deliver a number of groundbreaking new products we now have in the pipeline and ready to launch."
A total of 28 new production lines will be added to IPEX facilities in Asheville, N.C., Lawton, Okla., and Fort Pierce, Fla. The new lines will employ the latest in high-speed extrusion technology, says the company, and include closed-loop wall monitors, end-of-line pipe bundling automation, and gravimetric feeding systems.
All three facilities will see expansions of their distribution yards and buildings. The new lines are expected to be operational beginning late this year through to early 2024.
"Not only are we continuing to invest in the best available technology so we can better service our customers, but these expansions are also creating career opportunities for all IPEX employees," added Mestres.
IPEX provides a range of thermoplastic piping systems to North American customers in the municipal, irrigation, industrial, plumbing, mechanical, electrical and telecom sectors.
---
Print this page