February 24, 2022 By Anthony Capkun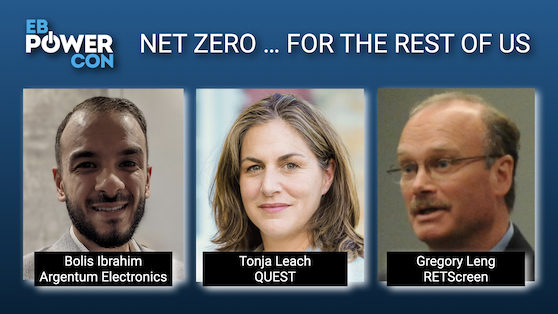 February 24, 2022 – We've heard terms like "net zero", "net zero ready", etc., bandied about for a few years, but what exactly do they mean?
More importantly, what do they mean for those who construct and operate our built environment?
To lend their perspectives and help define "Net Zero for the Rest of Us", we eagerly welcome to EBPowerCon 2022: Bolis Ibrahim, co-founder and CEO of Argentum Electronics Inc.; Tonja Leach, executive director of QUEST (Quality Urban Energy Systems of Tomorrow); and Gregory Leng, creator and director of the RETScreen Clean Energy Management Software at NRCan's CanmetENERGY research centre in Varennes.
Launched by Electrical Business Magazine, EBPowerCon engages with subject matter experts—one-on-one and via panel discussion—to shed light on trends and technologies so as to empower our professional electrical community of contractors, engineers, maintenance, and related stakeholders with knowledge and insight into markets and opportunities.
---
Print this page