Residential construction investment continues to erode – July 2023
September 18, 2023 | By Anthony Capkun
September 18, 2023 – Investment in building construction declined 2.6% to $17.5 billion in July 2023, reports Statistics Canada.
The non-residential sector was up 0.5% to $5.9 billion, while the residential sector decreased 4.1% to $11.5 billion.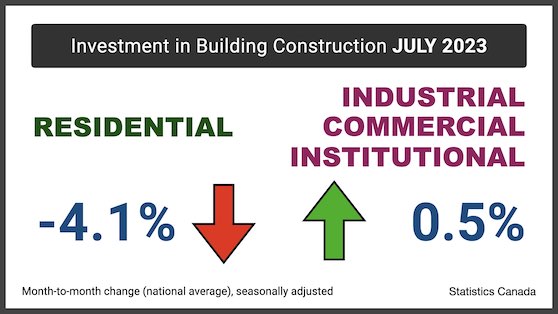 Investment in non-residential construction saw notable gains in British Columbia, Alberta and Saskatchewan, offsetting declines in six provinces.
After two consecutive monthly decreases, investment in the industrial component increased 0.6% to $1.2 billion, while commercial investment edged up 0.3% to $3.3 billion.
Institutional construction investment rose by 1.2% to $1.5 billion. A new hospital project in Dawson Creek contributed to notable gains in British Columbia.
Investment in residential building construction fell 4.1% to $11.5 billion in July, with declines seen in eight provinces.
Single-family home construction investment declined 5.5% to $5.8 billion, the lowest level since August 2020, with Ontario accounting for most of the fall.
Multi-unit construction investment was down 2.8% to $5.7 billion in July 2023, the ninth consecutive monthly decrease.
---
Print this page