Schneider Electric Galaxy RPP for high-density power distribution applications
August 18, 2020 | By Anthony Capkun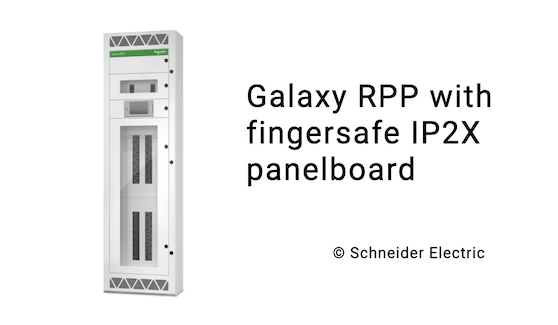 August 18, 2020 – Schneider Electric unveiled its new Galaxy remote power panel (RPP) 250A and 400A (208V), expanding high-density power distribution capacity for data centres and co-location facilities.
This latest offering in the Galaxy family complements all 75-500 kVA PDUs and provides connectivity to an end-to-end software platform for remote monitoring and control of critical DC assets. The EcoStruxure-ready Galaxy RPP features a 5-way access panel that helps to simplify maintenance, reduce downtime, and enhance user safety. Designed for efficient installation, the compartmental approach separates monitoring, distribution and control, giving the customer flexibility to selectively assign access.
RPP monitoring and management are facilitated via EcoStruxure IT's cloud-based software suite. EcoStruxure is Schneider's open, interoperable, IoT-enabled system architecture and platform.
---
Print this page