Wataynikaneyap connects Kingfisher Lake First Nation to the grid
November 24, 2022 | By Anthony Capkun
"Wataynikaneyap" means "line that brings light" in Anishiniiniimowin
November 24, 2022* – Earlier this month, Kingfisher Lake First Nation—a remote northern Ontario community—was connected to the provincial power grid; once connected to a reliable power source and energized, the community was able to switch off its diesel generators.
The announcement was made by Wataynikaneyap Power; the First Nations-led, $1.9-billion transmission project involves building about 1800 kilometres of transmission lines in Northwestern Ontario, thereby connecting 17 remote First Nations to the provincial grid for the first time.
"Schools, households, and businesses have been negatively impacted by frequent power outages," said Chief Eddie Mamakwa, Kingfisher Lake. "Access to reliable energy will lead to many improvements for our people and the community. Improvements in healthcare, education, food security, and technology will no longer be constrained by the limited capacity of the diesel generators."
(Kingfisher Lake is now the third First Nation to be connected to the provincial power grid through the Wataynikaneyap project. Pikangikum was energized in December 2018, and North Caribou Lake was connected in October 2022.)
"It has taken many years and we have reached a significant milestone today. I am very excited that we are celebrating the connection of Kingfisher Lake First Nation," said Margaret Kenequanash, CEO, Wataynikaneyap Power.
Kingfisher Lake's community distribution system connects to the Ontario grid through a total of 250 kilometres of lines and two substations, originating from its Pickle Lake Substation. Kingfisher Lake will continue to be served by Hydro One Remotes Communities Inc. (HORCI) for the local distribution of electricity.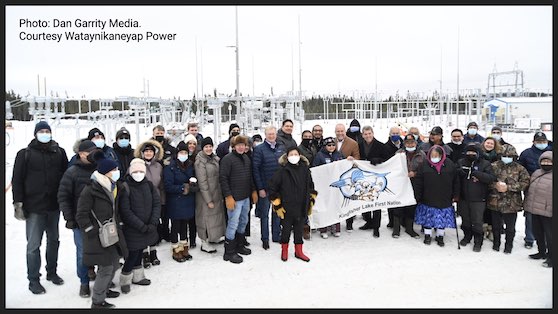 First Nation LP was established in 2015 to be the ownership and control of the participating First Nations' interest in Wataynikaneyap Power LP. The 51% interest in Wataynikaneyap Power LP is equally owned by each of the 24 First Nation communities. Those 24 communities are:
Bearskin Lake, Cat Lake, Deer Lake, Kasabonika Lake, Keewaywin, Kingfisher Lake, Kitchenuhmaykoosib Inninuwug, Lac des Mille Lacs, Lac Seul, McDowell Lake, Muskrat Dam, North Caribou Lake, North Spirit Lake, Pikangikum, Poplar Hill, Sachigo Lake, Sandy Lake, Slate Falls, Wabigoon Lake, Wapekeka, Wawakapewin, Wunnumin Lake, Mishkeegogamang, Ojibway Nation of Saugeen.
FortisOntario Inc.—a wholly owned subsidiary of Fortis Inc.—acts as the project manager through its wholly owned subsidiary, Wataynikaneyap Power PM Inc.
* Story updated November 25, 2022, with photos from the November 23 celebration.
---
Print this page