Articles Features Articles Software
What would an extra 25% profit margin look like? (software training)
July 6, 2022 By Anthony Capkun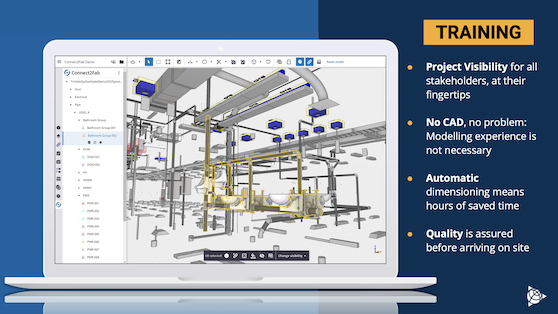 July 6, 2022 – What would an extra 5% profit margin look like? What about an extra 25%?
That's the thrust behind this training session with experts from Trimble MEP (mechanical, electrical, plumbing), where we learn that end-to-end construction management solutions exist right now to get the MEP contractor across that 25% finish line—that is, with Trimble MEP Connected Construction.
Welcome to the world of virtual design & construction! WATCH THE RECORDING (below).

On June 24, 2022, attendees joined Electrical Business and HPAC magazines to learn how to work more effectively in a Virtual Design & Construction environment.
We learn about the power of SysQue—a modelling solution that allows you to create real-world constructible models in the Revit environment, and paves the way to equally powerful solutions, such as model-based estimating, model-based procurement, and model-based fabrication (Connect2Fab), and more!
Led by moderator Anthony Capkun—along with co-moderator Lindsay Stame, product marketing manager with Trimble—this session includes expertise from these Trimble wizards:
Doug Elliott, SysQue product manager; Jason Trotter, SysQue product manager; Judy Miller, VDC software sales engineer; Melissa Dixon, Supplier Xchange product manager; and Philip Hall, MEP product manager.
---
Print this page