June 2, 2023 By Anthony Capkun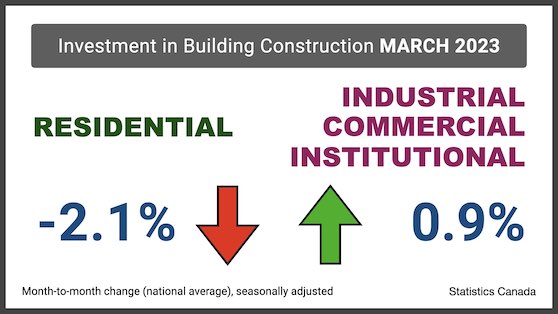 June 2, 2023 – Statistics Canada reports investment in building construction declined 1.3% to $20.3 billion in March. The non-residential sector went up by 0.9% to $5.7 billion, but the residential sector fell 2.1% to $14.6 billion.
Industrial construction investment increased for the 16th consecutive month, up 3.4% to $1.2 billion in March. Overall, eight provinces posted gains, led by Ontario (+5.0%, +$27.4 million).
Institutional construction investment was up 0.7% to $1.4 billion in March. British Columbia continued to increase (+2.6%, +$5.4 million), with the construction of a new expansion at Cariboo Memorial Hospital in Williams Lake contributing to the growth.
Commercial construction investment was relatively stable for March, edging up 0.1% to $3.1 billion. The construction of a new recreational centre in Spruce Grove, Alta., contributed to the monthly growth recorded.
On the residential side, investment in single-family homes was down 1.8% to $7.9 billion for March, with seven provinces posting declines. On the other hand, Nova Scotia (+14.1%, +$40.4 million) continued to see significant gains in this category after a strong February.
Multi-unit construction fell 2.4% to $6.7 billion in March. Ontario (-4.7%, -$135.6 million) was the most responsible for this decline, more than offsetting gains in Quebec (+4.8%, +$58.9 million) and Saskatchewan (+28.6%, +$22.8 million).
First quarter 2023 recap
In reviewing Q1 2023, Statistics Canada finds the total value of investment in building construction was relatively unchanged at $61.1 billion in the first quarter.
Investment in non-residential construction increased by 2.3% to $16.9 billion in the first quarter, with all its subcomponents increasing when compared with the fourth quarter of 2022.
The industrial component—which contributed the most to the non-residential sector—was up 5.9% to $3.4 billion in the first quarter, its eighth consecutive quarterly growth.
Investments in the commercial component increased 0.8% to $9.3 billion, while institutional construction investment rose 2.7% to $4.3 billion.
All of the declines in Q3 2023 were from the residential sector, which fell 0.9% to $44.2 billion due to multi-unit construction.
Investment in single-family home investment was up 0.4% to $23.9 billion in the first quarter, while the multi-unit component fell 2.3% to $20.3 billion, with most of the decline coming from Quebec (-10.6%, -$447.0 million).
---
Print this page