July 29, 2020 By Anthony Capkun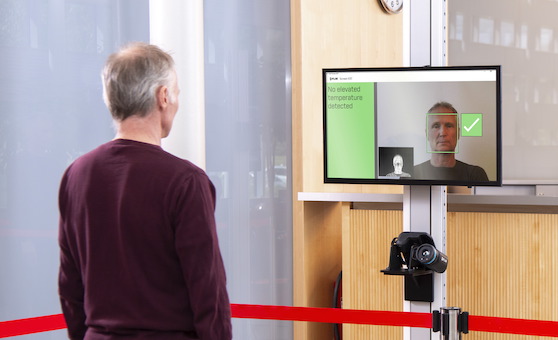 July 29, 2020 – Available for its T-Series, Exx-Series and A-Series thermal imaging cameras, FLIR Systems' new Screen-EST software provides automatic measurement tools that perform elevated skin temperature screenings of individuals in two seconds or less at entries, checkpoints, and other high-traffic areas while maintaining recommended physical distancing guidelines.
When used with T-Series, Exx-Series, or A-Series cameras, the software enables screening of individuals to occur 50% than FLIR Systems' existing on-camera screening mode, thereby accelerating throughput. When the software detects a skin temperature that exceeds a threshold set above the baseline average, Screen-EST will notify the operator and display or sound an audible alarm on the subject's viewing monitor.
The software also automatically captures skin temperature samples at the screening location to determine an average skin temperature baseline; it then adds additional samples throughout the day to reduce the number of inaccurate readings.
The FLIR Screen-EST software is for Windows-based laptops and desktops, and offers a plug-and-play connection for FLIR thermal imaging cameras.
---
Print this page