Articles Features Articles Safety Safety News
The struggle to recognize and accept electrical injury – a conversation with Dr. Marc Jeschke
"To this day, people struggle to get accepted and to be recognized to have had an electrical injury."
September 23, 2021 By Anthony Capkun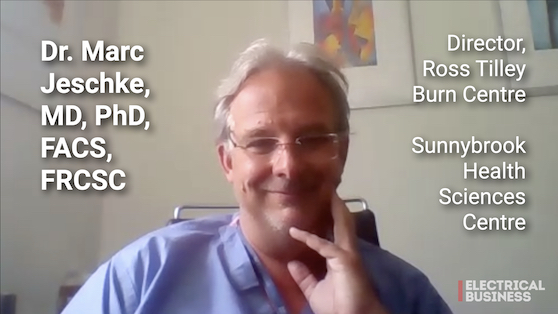 September 24, 2021 – Frustratingly, electrical injury—especially where there are no apparent wounds and burns—continues to be largely misunderstood, questioned (even ignored) by the medical community, healthcare providers and insurance companies, employers and co-workers.
"To this day, people struggle to get accepted and to be recognized to have had an electrical injury," says Dr. Marc Jeschke who, among numerous other positions and credentials, is the director of the Ross Tilley Burn Centre, part of Sunnybrook Health Sciences Centre.
"So, unfortunately, despite lots of talks, papers—and there are numerous out there published by various people, indicating the impact of low-voltage non-visible electrical burns—[…] we still don't have recognition. And that is very frustrating for patients, but also for care providers, because we don't get the resources to treat them. So it is not very well accepted. And this is very sad."
His experience with electrical injury stems back to his time with the Shriners' hospital for children at Galveston (UTMB, University of Texas Medical Branch), where he saw a significant amount of paediatric patients—as well as adults—from Mexico or Central America being admitted with electrical injuries… typically due to tapping into powerlines.
The subject of electrical injury—and the research being done at St. John's Rehab and Ross Tilley Burn Centre in Toronto—have had a special place in my heart ever since my visit to St. John's Rehab for our special feature The Road to Recovery from Invisible Electrical Injury back in 2010.
Back then, Electrical Business Magazine interviewed Dr. Joel Fish—then chief medical officer for St. John's Rehab—about invisible electrical injury. He said: "I myself in the beginning didn't believe this existed".
A decade has gone by since then, and I wanted to learn whether attitudes have changed.
Dr. Jeschke was gracious enough to take some time out of his day to chat with me about the state of electrical injury research, diagnostics, mental impact on victims, and the importance of the electrical industry stepping up to help move the needle ever forward.
We concluded our conversation with (and this is cool) a discussion about a hand-held 3-D "skin printer" that Dr. Jeschke is developing in collaboration with U of T Engineering to cover large burn wounds, while its "bio ink" can accelerate the healing process using the patient's own cells.
The Ross Tilley Burn Centre and St. John's Rehab have embarked on a joint program in electrical injury care and research to ensure the highest possible quality of care is available to patients with electrical injuries.
But their work is far from complete.
Specialized treatments for unique injuries advance only when industry rallies to support that research, so I strongly encourage everyone in the electrical sector to do what they can to help fund Ross Tilley Burn Centre and St. John's Rehab's program in electrical injury care.
To make a gift that will support Sunnybrook's life-saving research into electrical burn injuries, visit Sunnybrook or call 416-480-4833.
---
Print this page