October 16, 2020 By Anthony Capkun
October 16, 2020 – We aim to help answer the question "Are you charging enough as an electrical contractor?" with this, our 2nd Annual National Charge-out Rate & Revenues Survey, which is published as a Special Feature in the September 2020 edition of Electrical Business Magazine.
This has been an extraordinary year because of COVID so, naturally, we felt compelled to include a few pandemic-related questions in addition to the usual charge-out rate questions.
(N.B. Due to rounding, not all results may add up to exactly 100%.)
So… Are you charging enough as an electrical contractor? Let's find out!
Getting to know you
In our survey, roughly 15% of respondents identified as union shops, while 85% respondents identified as open shops (less than 1% did not identify). Depending on the question, and whether we found any discernible differences between the two, some results are presented as a whole, while others are broken out by union shop and open shop.
(The survey was conducted only in English, so Quebec is largely underrepresented. We are considering a bilingual survey for next year's edition.)
Reinforcing our data from last year, electrical contractors overwhelmingly tend to be small- to medium-sized enterprises. This is is why things like promptness of payment, onerous government bureaucracies and the like have such a profound impact on the lifeblood of their businesses.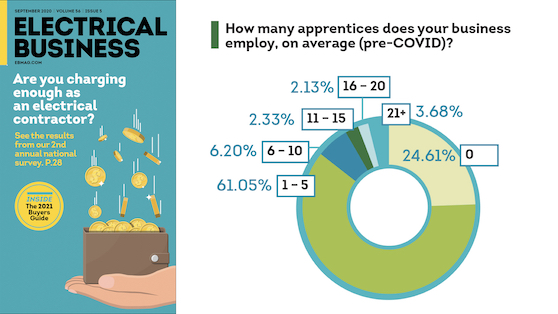 Charge-out rates
We found this section quite interesting because of the ups and down between union shops and open shops as compared to the (mostly) national average. In some cases, the gaps are large; in others, not so much.
Again, about 15% respondents identified as union shops, while approx. 85% respondents identified as open shops (with less than 1% not identifying).
About 1/4 of our respondents skipped some of the questions relating to charge-out rates. In some cases, they simply did not perform the work described. In other cases, there may have been anxious about anonymity. Remember: the survey is completely anonymous. We don't collect names, phone numbers, emails… nothing.
The impact of COVID now, and tomorrow
This section—with these questions—interested me the most. I was eager to see the impact of COVID nationwide on things like revenue and production losses. I was also very curious to get our respondents' thoughts on the construction industry today, and in the future. That is, when—if ever—things get back to normal.
Roughly 10% of respondents saw no loss of revenues, which means the other 90% took a hit… and some of those hits were deep.
Margins are tight, so whatever the percentage, lost revenues is always bad news. Wherever you fall on this spectrum, our ardent wish is for everyone's business to be back in the black as soon as possible.
Our results line up with the results from a survey conducted by the Greater Toronto Electrical Contractors Association. GTECA asked its members about the time involved to undertake many of the prevention activities required to prevent the spread of COVID-19, and the results showed 56 minutes per day, or just over 12% direct impact on productivity.
Without question, worker and jobsite safety take precedence over all other considerations. Besides being the right thing to do, negligence in this department can cost you dearly. That said, subcontractors—through their various regional and national associations—must maintain pressure on governments and related authorities for contract relief measures.
These responses clearly indicate we aren't out of the woods yet… not by a long shot. While roughly 1/4 of respondents are optimistic about the construction industry getting back to normal within the next 3-6 months, the majority believe the pandemic's impact will be felt for many months to come.
In fact, 1/5 of respondents believe it will take at least two years for things like bidding, productivity, revenues, etc., to get back to pre-pandemic levels. But possibly never.
Looking back, and looking ahead
We spent the month of July (and a little bit of August) inviting electrical contractors across Canada to answer a very simple, multiple-choice survey (it took less than 5 minutes to complete). The completely anonymous survey was promoted across EBMag.com, our weekly newsletter, LinkedIn and Twitter.
If you did not participate this year, but would like to next year (and I truly hope you do!), I encourage you to visit our website, EBMag.com, sign up for our newsletters, or follow us on LinkedIn or Twitter to find out when next year's survey is ready to go. After all, the more responses we get, the better the data… all of which help better answer the question "Are you charging enough as an electrical contractor?".
Several special "Thanks!" are in order. First, to a few trusted advisors who helped me craft the survey questions for ease, simplicity and relevance. Second, to everyone who helped spread the word by sharing the survey link in their own newsletters, social feeds, etc. Finally, to the hundreds of you who took a few minutes to complete the survey. Your responses help clarify the state of the industry across Canada, and this survey would be nothing without you. Thank you!
---
This Special Feature—along with our annual buyers guide—appears in the September 2020 edition of Electrical Business Magazine.
---
Print this page